Violin Fingering Charts
Here are a few violin fingering charts for the most common beginning scales.
When you first start playing you may start by learning one new finger at a time. Once you have a first, second and third finger under your belt, you can start on your scales. D major (1 octave) or G major (1 or two octaves) are the most common to begin with since they have easy finger patterns to remember, and avoid the F natural on the E string which can be a bit awkward to start with.
In each picture, the black bar at the left hand side represents the nut of the fingerboard. The horizontal lines are the strings, which are labeled at the left with G at the bottom and E at the top. The notes with a grey background are the ones you would normally use to play the given scale to start with.
The white background notes are there to show where other notes in the scale fall, but would either not usually be played for a one or two octave scale, or would require the fourth finger instead of the open string (which is good practice once you get the hang of it)
All the scales are in first position.

G major, 2 Octaves
Note that the scale starts with the open G string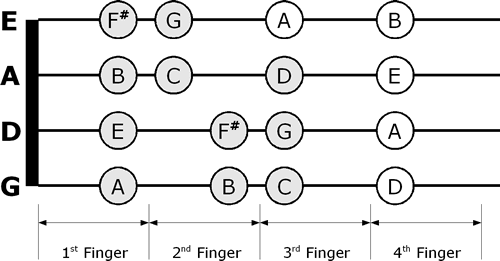 D major, 1 Octave
This time the scale starts with the open D string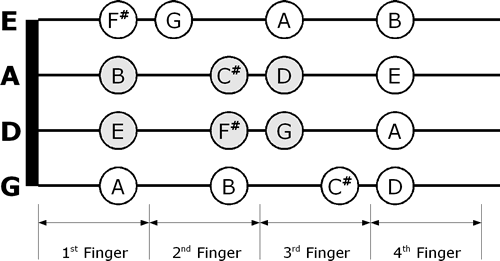 A major, 2 Octaves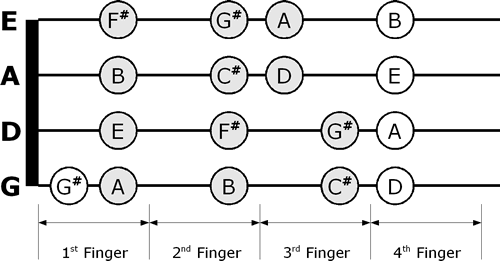 B flat major, 2 Octaves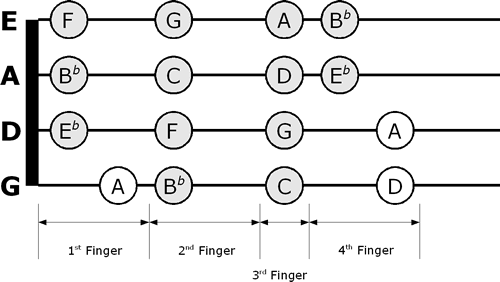 If you would like a violin fingering chart which is not here, drop me a note using the contact page and I'll see if I can add what you want.