Violin Sheet Music Sources
Despite the fact I can get plenty of violin sheet music for free, I have still found plenty of occasions where I have parted with my hard earned cash for music I wanted. The following are sources I have found useful.

Sheetmusicplus
Big. Large. Enormous. Whatever you call it, there's lots of violin sheet music to be found here. 411,000 items and growing. They sell current, hard copy editions of music. I've had no problems with them, shipping has been fast even getting to New Zealand. This is where I got my Galamian edition of the Kreutzer studies , and a copy of Mozart's 12 easy duets which my eldest daughter is now learning with me.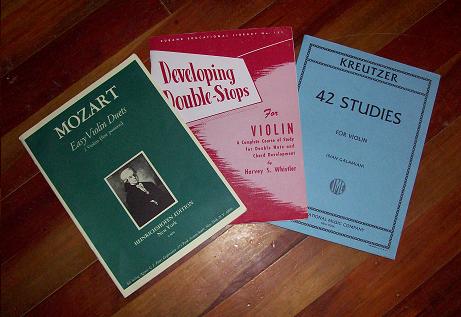 everynote
Selling electronic (PDF) copies of out of copyright material, I picked up a Wohlfahrt violin method for about $2.50. I started my youngest daughter on this, though I did find the method went a bit fast. Mind you, it may not have been written with 4 year olds in mind :-).

Faber Music
Publishers for Trinity college exam books, I have purchased a number of times from them. It was cheaper to order direct from them than to buy locally. All was well for the first few orders, but our last order never arrived. They answered our second email query with an apology and a 'do you still want this music?'. Watch this space to see if anything comes of it...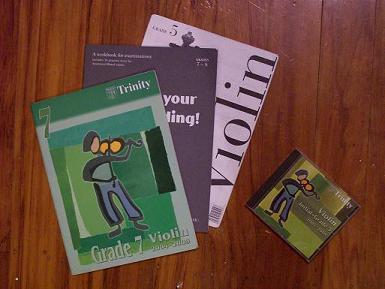 Sibeliusmusic
I had occasion to be looking for sheet music for a small group I was playing with. I was browsing the Sibeliusmusic site which allows you to listen to an electronic version of the music before you buy, which is great when you are looking for a new piece. (in does require you to install their 'scorch' plugin).
In this case you buy the right to print one copy of the sheet music each time you buy. The site keeps track of how many copies you purchase, and allows you to print the number of copies bought. This does mean you need to be connected to the internet on the computer you print from.
All the music here is either an original composition, or an original arrangement – they do not have copies of out of copyright music.
If you have used any violin sheet music sources which you think really ought to be listed here, leave a message on the contact form, and I'll have a look at it.