Violin Shoulder Rest
A violin shoulder rest makes it far easier to hold the violin between your chin and shoulder without tensing up, leaving your left hand completely free to move over the finger board.
I've tried two styles of shoulder rest – and believe me, one is vastly superior to the other! Originally I used what is known as a KUN style rest. You can see one illustrated in the top row of the photo. There are about 5 fixed widths that you can adjust it to, and a small range of heights. If you have a long neck, don't even consider the Kun.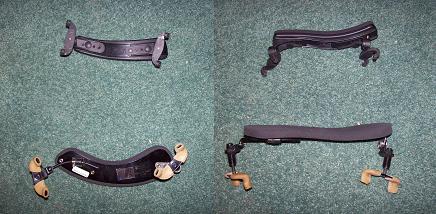 The violin shoulder rest I found far better was the wolf forte-secondo. It is simply leaves the Kun in the dust for adjustability. It has more than twice the maximum width and height adjustment, and is infinitely adjustable within that range. You can see it illustrated in the bottom row in the photo.
Rests of this style will usually suit two sizes of violin, so once you are on a ¾ instrument, it is well worth the extra money for a better shoulder rest which will do for both ¾ and 4/4 size violins.